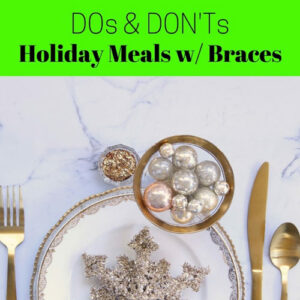 The holiday season is here and with it comes a host of parties, events, and family get-togethers. While the warm greetings of friends and family are welcomed, they can come with a bevy of meals that can be challenging to navigate with the requirements of brace maintenance.
WE UNDERSTAND!
JB Orthodontics' goal is to help you navigate this wonderful time of year while still maintaining optimum oral health. No one wants to interrupt their festivities for an emergency brace repair!
Below are a few quick and easy tips to help you enjoy all the holiday hustle-and-bustle without extending your treatment plan!
Some links herein take you to Amazon and are associate links. As such, we may earn from qualifying purchases.
Candy canes, peanut brittle, and taffy are all holiday foods that can go from sweet to SOUR if a wire pops or a bracket slips. Steer clear of these snacking pitfalls that can prolong your treatment plan.
In general, whole apples and pears that require you to dig into with your teeth make for poor holiday fellows at mealtimes. Sliced fruits let you enjoy all the flavor with none of the risks!
Raw vegetables can be tempting when lined up with creamy dips on holiday buffets. Try to avoid them if you can, or THINLY slice them to avoid an emergency orthodontic repair.
We understand that holiday snack temptations can pop-up out of nowhere. Especially when you take that crossbite out  for one more slice of Grandma's famous pie! Always be prepared and keep the festivities going. Carry a simple back-up kit of supplies (your personal BRACE BAG) at all times!
As always, we here at JB Orthodontics are committed to creating beautiful smiles for patients of all ages. Any advice herein is NOT meant to replace the advice of your personal orthodontist but is offered solely for educational purposes. Please follow our blog to learn more about the artistry of smile design and we hope you contact our offices today to book a consultation in either of our two convenient Fairfield County locations.
Be Well and Smile Bright!
Dr. B.