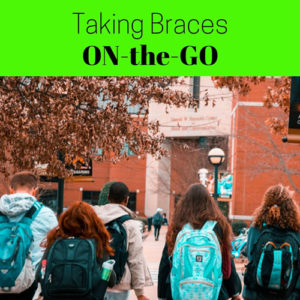 We posted earlier about some simple ways to keep your braces clean and well cared for, even during the busy back-to-school season. Another great way to keep your braces in good working order all throughout the year is to carry a kit of supplies for the unfortunate orthodontic emergency. We call them BRACE BAGS and they are super easy to put together. You can assemble a kit to keep in your bag, car, at the office, or even in your locker when you are at the gym or school.
We've compiled a handy list of items you could put together in your brace bag to have just in case. To make it even easier, we've given you some easy links so you can shop these items around and find all the ones that fit your personal style.
Keeping these small kits on hand will give you the best chance at keeping your orthodontic investment in good health no matter what surprises come your way.
Got a cool brace-bag? SHOW IT OFF!
Tag us on Facebook and Instagram with #bracebag
We'll pick our favorite to display in our office!
As always, we here at JB Orthodontics are committed to creating beautiful smiles for patients of all ages. Any advice herein is NOT meant to replace the advice of your personal orthodontist but is offered solely for educational purposes. Please follow our blog to learn more about the artistry of smile design and we hope you contact our offices today to book a consultation in either of our two convenient Fairfield County locations.
Be Well and Smile Bright!
Dr. B.
Some links herein take you to Amazon and are associate links. As such, we may earn from qualifying purchases.