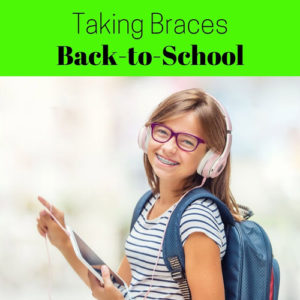 The dog days of summer are gone and with the cooler fall temperatures arriving, we turn our attention to the Back-to-School season. Busy sports and activity schedules, combined with the new classroom shuffle, can make for hectic days. That also means some of the basics in orthodontic care can be left in the dust of a chaotic calendar.
WE UNDERSTAND!
JB Orthodontics' goal is to make this busy time of year a little easier for the whole family. Of course, we also want to make sure that you maintain optimum oral health for faster appointments and healthy Periodontal Tissues. We've compiled a few quick tips to help you maintain excellent oral hygiene on your journey to the perfect smile!
EAT SMART! Check your weekly lunch menu at school to make sure a brace-friendly option is available. If not, pack a lunch that avoids items too hard, crunchy, or sticky/chewy. These "no-no" foods will cause bent wires and lose brackets, which can impede class time focus and also extend treatment time. Take a moment too, and stock the pantry for those healthy afterschool snack options to try and lower the number of sugary sweets and salty chips that glaze those pearly whites.
PLAY SAFE! No matter what sport or activity, a simple mouthguard can go a long way to protect that smile. Especially with braces, guards can be an important step in preventing mouth injury. If you are unsure what kind you need, contact our offices and let us help guide you in choosing a proper mouthguard.
KEEP IT FRESH! One of the biggest challenges in wearing braces is the simple process of keeping them clean. You can start with the 3-by-3 rule (brush for three minutes, three times a day) but even that can be forgotten between the morning rush and the evening exhaustion. Set a new habit to brush your teeth as soon as you come home from school.
STRAIGHT to the sink, and brush 'til they gleam!
BE PREPARED! A little preparation can go a long way for maintaining superb orthodontic health, especially when on the go. You never know when that snacking disaster will strike. So be prepared with brush, floss, picks, and more! Create a simple back-up kit of supplies and keep it in your backpack, locker, or both!
As always, we here at JB Orthodontics are committed to creating beautiful smiles for patients of all ages. Any advice herein is NOT meant to replace the advice of your personal orthodontist but is offered solely for educational purposes. Please follow our blog to learn more about the artistry of smile design and we hope you contact our offices today to book a consultation in either of our two convenient Fairfield County locations.
Be Well and Smile Bright!
Dr. B.
Some links herein take you to Amazon and are associate links. As such, we may earn from qualifying purchases.